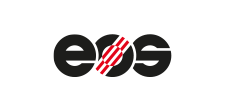 EOS Dental Solutions: Fast and easy handling, high cost efficiency
EOS provides complete solutions from one source for the additive manufacturing of dental frameworks. With our verified combination of system, material and process parameters, we ensure full control over all aspects relevant to attain the highest possible quality standards (certification according to Annex 2 of the MDD 93/42/EEC). The EOS M 100 system delivers optimal cost per unit for the manufacturing of crowns and bridges. Over 150 EOS systems worldwide produce more than 7.5 million crowns and bridges annually.
The right choice for hybrid manufacturing
The seamless combination of 3D printing and the precision of conventional CNC milling techniques delivers the advantages of additive and subtractive production. This enables the production of superstructures with individual implant geometries at low cost. The EOS M 100 is part of a tested and proven solution for hybrid manufacturing in the dental industry and works with most CNC milling machines used for the manufacturing of dental prosthetics.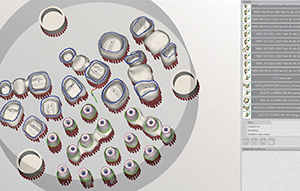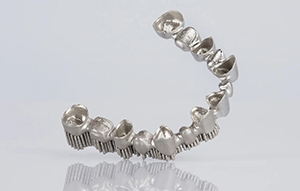 APPLICATION DENTAL CROWNS FROM EOS COBALTCHROME SP2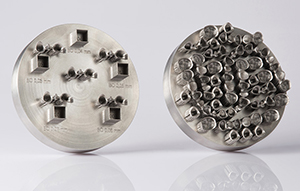 HYBRID BUILDING PLATFORMS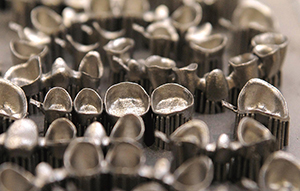 CLOSE-UP SUPPORT STRUCTURES