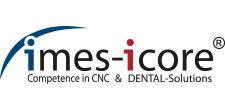 imes-icore GmbH – Development, production, sales and service in Germany
Benefit from our know-how
imes-icore GmbH expertly equips customers with sophisticated hardware and optimally supports them with coordinated services. Our globally active company applies expertise to the development, production, sales and service of CNC machine systems complete with all required components and CAD/CAM applications. The outstanding advantages of imes-icore CNC systems include a modular structure, open interfaces and the resulting flexibility for application adjustments. These allow customer requirements to be met very quickly at a
good price/performance ratio.
imes-icore's premium machine systems, CORiTEC 650i and CORiTEC 650i Loader, feature high quality industrial milling machine technology, such as granite construction, linear drives in the linear axes and torque motors in the rotary axes, digital absolute linear measuring systems and powerful main spindles. The machine concept impresses with its precise, vibrationfree and dynamic motion sequences for the challenging and complex processing of metals. This machine system can also be used for high quality milling and grinding of all other materials using either wet or dry processing.
The corporate objective of imes-icore GmbH is to develop and improve the user-oriented features of the CNC machine systems. Our aim is to provide well-coordinated systems which offer users flexibility while remaining technologically up to date and meeting user requirements.