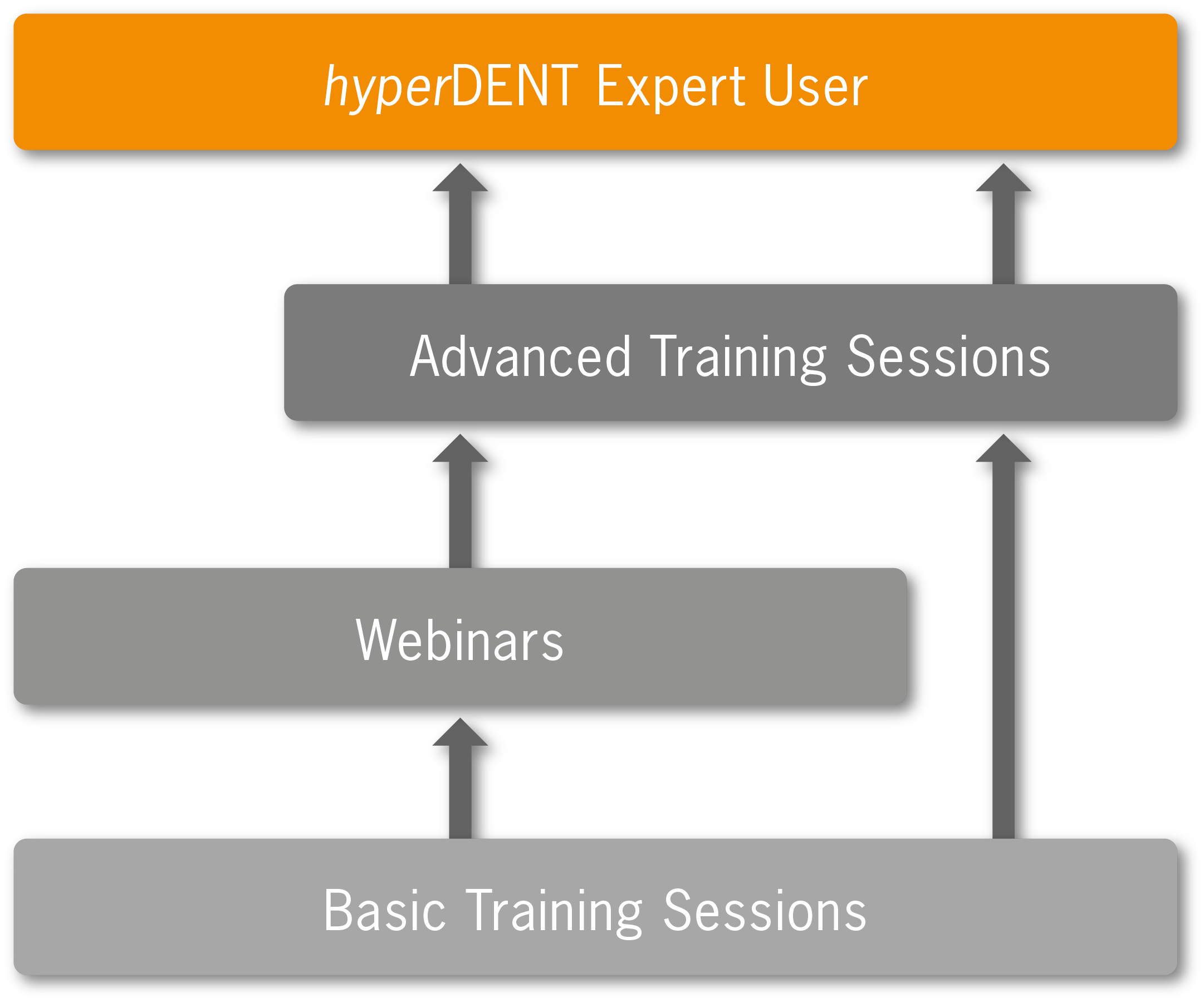 FOLLOW-ME! hyperDENT Training
For the past 10 years, FOLLOW-ME! has been working hand in hand with our customers and partners – making hyperDENT® an industry-leading dental CAM software. But now, our professional support team would like to expand the ways for them to service your team and share their experience and CAM knowledge. We worked hard to generate new, creative learning opportunities to ensure you are utilizing all the benefits of hyperDENT and optimizing its features for your workflow. Our FOLLOW-ME! training courses were developed for everyone – starting with the beginner user that needs a basic understanding of hyperDENT, and builds upon these fundamentals until you're a CAM expert! Whether it's systematic and practical know-how or anecdotal case studies, we've got you covered. As a bonus, our Online Webinars help keep you up-to-date with the latest developments and features so your milling facility can always stay one step ahead of the competition.
Basis Training
The target group for these training sessions range from complete beginners to hyperDENT users with minor experience who want to gain a deep understanding of toolpath generation and automation options.
The training content is built up from the previous sessions, but it's also possible to book single days / modules.
CONTENT (order number):
Basic knowledge for the application and options (hd_bas).
Day 1: Introduction to hyperDENT
For beginners with little or no hyperDENT experience. Get tips and tricks for getting the most out of your everyday hyperDENT use, including an overview of the latest version.
Day 2: Template Editor Module
"How do I create a template?", "Which milling strategy is the best for my specific application? And why?". On the second day, you will get the answers to these questions and more – including the possibility to work on your own individualized solutions.
Day 3: Implant Module
Need to know how to manufacture implant bars, screw-retained bridges, or individual abutments including the interface geometries milled from the blank? We will focus on how to use advanced implant functionality, geometry exchange, and template integration to create parts that are the same quality and consistency you'd expect from an implant manufacturer.
Day 4: Hybrid-Module
The FOLLOW-ME! hyperDENT® Hybrid Module combines the capabilities of laser sintering and post milling specific areas of dental restorations into a single application. Using minimal material, very high quality dental indications with excellent surface finish can be produced effectively and in large volumes.
Day 5: Grinding

Grinding with sub-optimal strategies can expedite the wear and tear of expensive tools and machine components. Learn how to optimize your grinding strategies to create better quality results, faster milling times, and a safer process that preserves the life of your milling equipment.
EVENT TYPE:

group training
PRICEES:
5 Days Package 2.500€ │ 4 Days: 2.200€ │ 3 Days: 1.800€ │ 2 Days: 1.300€ │ 1 Day: 700€
Please note: It is not necessary to book 2 consecutive days. For example, you may wish to select a Tuesday and a Thursday training session. Please feel free to contact us for an individualized schedule, we're happy to accommodate your request.
Are you booking for one or more persons? We offer price reductions for companies that want to train multiple employees. Please ask for group training packages.
If you have any questions, please do not hesitate to contact us:
Tel.: +49 89 45217060
Please send all basic training requests to: training@fm-dental.com
DATES:
CW 21: 20. – 24. May 2019
CW 46: 11. – 15. November 2019
or for groups with appointment
Advanced Training
All forms of training content are possible and will be defined based on your individual needs. Did you receive a specific customer requirement? Do you want to incorporate a proprietary technology to your hyperDENT workflow? The advanced FOLLOW-ME! training option is the right choice. You can book a training session at our office or we'll visit your facility to address your company-specific demands.
CONTENT (order number):
individual training (hD_ind)
VENUE:
FOLLOW-ME! Technology GmbH
Head Office
Regerstraße 27
81541 Munich, Germany
or
Inhouse training in your premises.

EVENT TYPE:
individual training
PRICES and DATES:
Per your needs and requests.
We are happy to help you with your individual requests and will put together individual training courses for you. Please feel free to contact us:
Tel.: +49 89 45217060
E-Mail: training@fm-dental.com
Webinars
Similar to our advanced, individualized training, but completed through a TeamViewer session. We'll provide you with very specific information directly and interactively… digitally from anywhere in the world! This can include anything from general update training for new hyperDENT versions or features, to the clarification of certain questions or projects specific to your milling facility.
CONTENT (order number):
update – training hyperDENT V8 News (V8_Update_Web)
individual training content (hD_ind_Web)
DATES "V8_Update_Web":
V8.2 Webinar English:
date: 05./06./07.02.2019
time: 10 am & 1 pm & 3 pm
V8.2 Webinar German:
date: 07./08./09.01.2019
time: 8 am & 10 am & 1 pm
PRICES:
V8_Update_Web => included for maintenance customers OR 199€
hD_ind_Web => 199€ / hour
Please feel free to contact us regarding the Online Webinars with your desired date to: training@fm-dental.com. You will receive further information about how to participate in the webinar after your successful registration.
TEAMVIEWER FOR WEBINAR PARTICIPATION