Dental Hybrid Production – a real highlight for the young talent at the GE Additive Customer Experience Center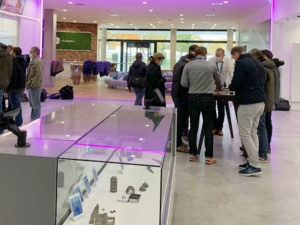 Josef Schweiger, Head of Laboratory & Digital Research at the LMU, accompanied the motivated junior staff enrolled in the "Digital Dental Technology" master's course to Garching as part of the module "Digital Processes and Manufacturing Techniques". There, the students gained a first insight into the world of hybrid production.
Once again, the pioneers of dental hybrid production, namely Concept Laser, Datron and FOLLOW-ME!, were invited as speakers. During the event, the students acquired basic knowledge about dental hybrid manufacturing and got a first-hand impression of the hybrid processes.
The theoretical part included the important CAM aspects of additive manufacturing and remilling. Afterwards, the participants had a look at the workflow steps in practice. Through the interactive dialogue, all questions could be answered and knowledge was exchanged in both directions.
We would like to thank all guests and speakers who participated in this successful event!