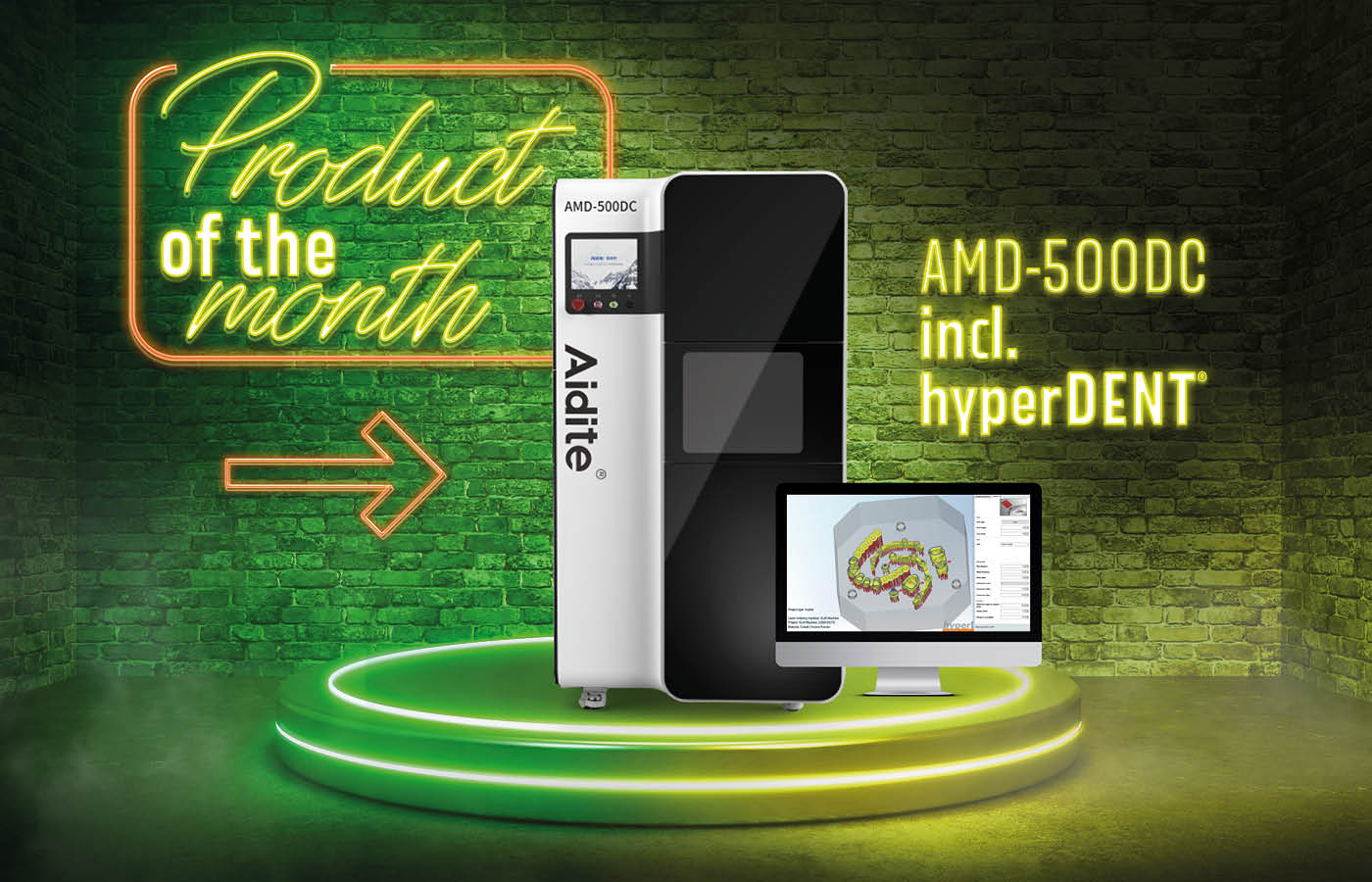 Product of the month
Milling machine AMD-500DC
incl. CAM Software hyperDENT
The dental 5-axis milling machine AMD-500DC from AIDITE and our leading CAM software system hyperDENT are an unbeatable team! With a 12-fold disc changer, the AMD-500DC enables automated, digital dental prosthesis production from all common materials in the dental industry. Our CAM software hyperDENT convinces with highly efficient milling cycles, maximum process stability and first-class indication quality.
With this combination, you can get the most out of your CAD/CAM production!
Highlights Aidite® AMD-500DC

5-axis milling machine with open CAM system
Automatic material change: 12-fold disc changer enables machining over 24 hours!
Tool magazine with automatic tool change (ATC) & tool length and breakage detection
High speed spindle with 60,000 rpm and water cooling system
Machining of all common materials in the dental industry

Highlights hyperDENT CAM Software

Mapping of the complete production process in one CAM software
Optimum surface quality thanks to sophisticated milling path calculation
Highest precision and time saving in the whole process
Validated processing templates for optimum process reliability
Regular updates and upgrades available
The AMD-500DC milling machine incl. hyperDENT CAM software can be purchased as a package from our partner xDEPOT.

This is an offer of xDEPOT GmbH. If you have any questions about the xMEMBER discount, installation or training, please contact xDEPOT GmbH directly. This promotion is only valid from 01.04.2022 to 30.04.2022 at xDEPOT. All prices are in € and exclude VAT and delivery costs.