Perfectly adapted implant components for first-class implantology results.
The "Part Inqueue" function enables a direct connection between hyperDENT and the output folder of the CAD system.
The parts to be produced as well as other additional information such as material characteristics, height and part types can be displayed in an overview list.
In this video, we will show you how to link hyperDENT with your CAD system as well as the benefits achieved from an accelerated production workflow.
More freedom in your production process with FOLLOW-ME! innovation!
Dental Hybrid Production – a real highlight for the young talent at the GE Additive Customer Experience Center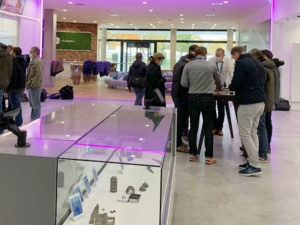 Josef Schweiger, Head of Laboratory & Digital Research at the LMU, accompanied the motivated junior staff enrolled in the "Digital Dental Technology" master's course to Garching as part of the module "Digital Processes and Manufacturing Techniques". There, the students gained a first insight into the world of hybrid production.
Dear Customers and Partners,
Our development team has been working continuously on a variety of new functions and improvements which have been included in the new
hyperDENT Version 9.1
. The primary goal was to significantly accelerate your workflow. In addition to numerous enhancements and improvements to standard functions, you will find many new and revised automation options in the new version V9.1. These will help speed up internal workflows thereby saving time and money.
That's how to make work more fun!

Get the brochure:
hyperDENT | The Art of Dental Engineering