FOLLOW-ME! Technology is set to release its latest hyperDENT® – Version 7.0. The new version boasts more than a hand full of new features, all of which add to increased precisioning and operator efficiency, significantly reducing the time required in the production process. 
"Our Engineers have been working tirelessly not only to improve functionality to help our customers produce quality products, but to also significantly reduce time technicians have been required to invest in the production process.  We at FOLLOW-ME! understand the ever continuing pressure that our customers face to produce high-quality products that need to be ready by yesterday.  I'm proud to say that with the developments in Version 7.0, we can now make yesterday's deadlines achievable," explained FOLLOW-ME! CEO, Dr. Ferdinand Schwenkert.
Model machining
A function which completely eliminates the need for one of the most time consuming stages in the production process.  Model machining disposes the need for dental practitioners to manually obtain a mould from their patient.  What is known to be a long and somewhat uncomfortable process for dental patients, can now be done away with using hyperDENT Version 7.0. Dentists can now directly transfer patients' data electronically to a technician, whereby the milling process may immediately begin.  This new Version 7.0 function, effectively saves up to 24 hours in the production process.  This function however, can only be used in conjunction with user defined areas.
User defined areas
Technicians are now able to manually select and define a specific area of a dental object which they feel may require special attention.  For example, the technician may wish to select a finer tool to be used on a specific area, in order to achieve even greater precision. On top of this, the technician can manually select the direction and angle in which the tool should operate in the user defined area. This operation was previously unachievable.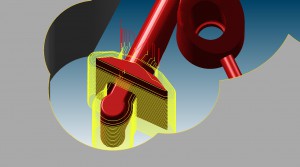 Rotate to surface normal view
Is a function that provides accuracy for the technician to view the object in the surface normal view and combined with user-defined areas, enhances precision milling significantly.
Autonesting functionality
No longer do operators need to manually calculate and/or estimate the optimal positioning of objects, as previously required.  Operators can now choose individual nesting parameters which can be adjusted according to each different fixture the operator wishes to work with.  These can then be saved and used for future projects. Additionally, multiple objects can be loaded simultaneously and can be processed within these parameters.
Calculation merge
Manufacturing is also sped up by reducing tool changes.  Multi-unit fixtures can now be combined using the calculation merge feature.  This enables technicians to combine single programs for multi-part fixtures to one tool change optimized NC program.
Bitesplints
To meet the growing demand of Bitesplints, Follow-Me! has incorporated this brand new indication in V.7 to allow technicians to expand their product line and provide additional services to their customers.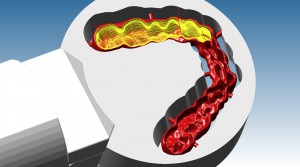 Dynamic tool preview
This function allows technicians to preview and image  the tool they wish to use, before using it.
STL reducer
Optimises and compresses the STL file to allow faster calculation and handling of lager file sizes which previously may have been difficult to manage.
Grinding strategies for inlays/onlays
High quality results are ensured by the adoption of 3-Axis and 5-Axis grinding strategies. This function can be utilized for thin margin lines and specific security mechanisms.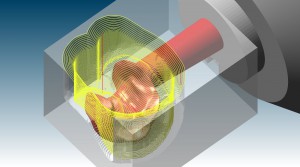 Prefab Abutments
Version 7.0 works with prefab abutments from a multitude of prefab suppliers, allowing for a smoother production workflow.
Abutments/ Bridges/ Bars including interface
Various materials and implant systems can be utlized by taking advantage of the Abutment Master template, allowing greater workflow flexibility for technicians.
Additionally, FOLLOW-ME! Technology is also launching a new online license center in combination with the release of Version 7.0. This will assist technicians in registering and updating licenses in a more efficient, less complicated manner.
With the enhancements of hyperDENT Version 7.0, not only has FOLLOW-ME! Technology streamlined the production process for technicians, but additionally provided an unprecedented cutback in production output delivery times.
Dr. Schwenkert concludes, "We are incredibly satisfied to be able to say, that not only have we effectively streamlined the production process for dental technicians, but we are now helping them achieve those previously unachievable production demands, while simultaneously allowing them to maintain the utmost quality in their deliverables."